A two-day table-top exhibition will be held alongside Magnetism 2022. The exhibition is a great opportunity for you to meet with conference participants, discuss your latest developments and techniques, and promote your products and services.
Attendees at the conference would be interested in meeting representatives in the following fields:
Manufacturers or agents providing equipment associated with magnetism, vacuum science and nanotechnology
Publishers working in the scientific community companies
Employers of science graduates working in magnetism or related field
Package
Space is available as a table-top display and includes:
One table and two chairs
Dedicated page on the conference website
Access to the conference programme
Lunch and refreshments for two exhibitor representatives for the duration of the exhibition
Virtual exhibition space
Exhibitors will be able to set up on the morning of 28 March and set down in the afternoon of 29 March. Further information with addresses and exact timings will be sent closer to the event.
Floorplan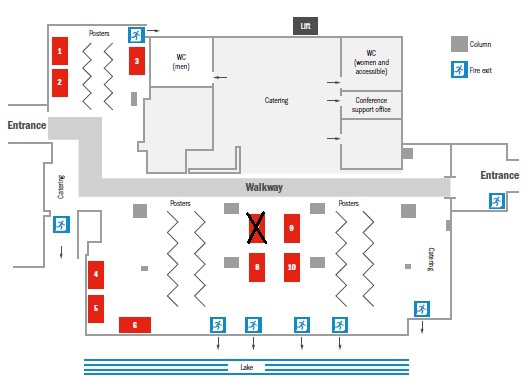 Rates
Space is limited and allocated strictly on a first-come, first-served basis. The cost to exhibit is £550 + VAT* if booked before 14 January 2022, and £600 + VAT* thereafter.
* VAT is charged at the prevailing rate of 20%.
Reserving a display
To book a table-top display, please choose your preferred location from the floor plan and email ana.santos@iop.org. Exhibitors will be added to the website as confirmed so you should check the website regularly to see which stands are still available.